Product Description
Product Description
Conveyor Chains
Bush roller chain (used in U type scraper conveyor)
Bush roller chain (used in horizontal scraper conveyor)
Chains adopt high quality medium-carbon alloy steel,chain plate material is 40Mn, pin and roller material is 40Cr.
High quality material and good heat treatment guarantee excellent anti-shearing force and tensile strength during working and have good looking.
Model: GLF For TGSS flat scraper conveyor, install flat scrapper
NOTE: Other specifications which are not listed above can be made to customs'specifications.
Ring Chain
Drag Conveyor Type
Ring Chain Type
Pitch
P(mm)
Diameter
d(mm)
Length
L1(mm)
Width
W(mm)
Flight Type
Wing Width
L(mm)
Flight Width 
H(mm)
GSS16
D10-55-13
55
10
74
32.5
HF16
148
43.5
GSS20
D10-55-13
55
10
74
32.5
HF20
188
43.5
GSS25
D10-55-13
55
10
74
32.5
HF25
225
43.5
GSS32
D14-70-18
70
14
95
45
HF32
300
54.5
GSS40
D14-70-18
70
14
95
45
HF40
382
54.5
Note: The installation spacing of the nylon scraper is 4 links. We suggest every 4-6pcs of nylon scraper add 1 PU scraper to better remove the material residue in the scraper slot.
 
Packaging & Shipping
Certifications
Company Profile
Main Product Catalogue
FAQ
Q: Are your manufacturer or trading company?
A: ZheJiang CZPT is a leading and professional manufacturer of grain conveying equipment accessories over 10 years in China.
Q: What is your payment term?
A: Our usual payment is 30%TT in advance, 70%TT before shipment (the bill of landing). For small quantity, we also accept other ways after discussion.
Q: Could i buy sample first or small order and is the sample fee refundable?
A: Of course. We accept sample and small order especially for new customs and of course the sample fee will be refundable when order confirmed.
Q: When can delivery from ordering?
A: The delivery time depend on the quantity you ordered, generally about 15-45 days after deposit of payment.
Q: What is the quality of your products?
A: Quality is our corporate culture, we regard product quality as life of our company. We have achieved a lot of certifications to meet customs requirements. As a factory, we can control all process of production 100% and every single product will be tested qualified before shipping.
Q: How long is the warranty of your product?
A: Our warranty period is usually 1 year. But the warranty period can be extended after discussion and agreement.
| | |
| --- | --- |
| Material: | Stainless Steel |
| Structure: | Roller Chain |
| Surface Treatment: | Polishing |
| Chain Size: | 1/2"*11/128" |
| Feature: | Fire Resistant, Heat Resistant |
| Product Name: | Conveyor Chain |
Samples:

US$ 1/Meter

1 Meter(Min.Order)

|
Request Sample
Customization:

Available

|

Customized Request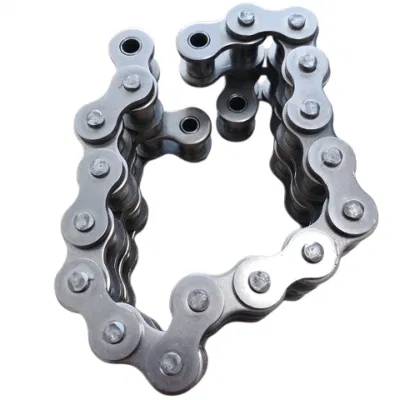 Can a bush chain be used in high-temperature applications?
Yes, bush chains can be designed and manufactured to withstand high-temperature environments. However, the specific temperature range in which a bush chain can operate depends on several factors, including the materials used, lubrication, and the design of the chain.
When considering the use of a bush chain in high-temperature applications, it is important to consider the following:
1. Material selection: Choose materials that can withstand the elevated temperatures without significant degradation. Heat-resistant alloys or specially treated materials with high-temperature resistance are commonly used in bush chain construction.
2. Lubrication: Proper lubrication is critical in high-temperature applications to reduce friction and prevent premature wear. Select lubricants specifically formulated for high-temperature environments. These lubricants should have a higher viscosity index and thermal stability to maintain their effectiveness at elevated temperatures.
3. Design considerations: The design of the bush chain should account for the thermal expansion and contraction that occurs at high temperatures. Adequate clearance should be provided to accommodate the thermal expansion of the chain components.
4. Heat dissipation: Ensure proper heat dissipation from the chain by allowing sufficient airflow or implementing cooling mechanisms in the system. This helps to prevent excessive heat buildup and potential damage to the chain.
5. Temperature limits: Consult the manufacturer's specifications and guidelines to determine the maximum temperature limit for the bush chain. Operating the chain within its temperature limits ensures its reliability and longevity.
It is important to note that the performance and lifespan of a bush chain can be affected by prolonged exposure to high temperatures. Continuous monitoring and regular inspections are recommended to ensure the chain's integrity and identify any signs of wear or damage that may be accelerated by the high-temperature environment.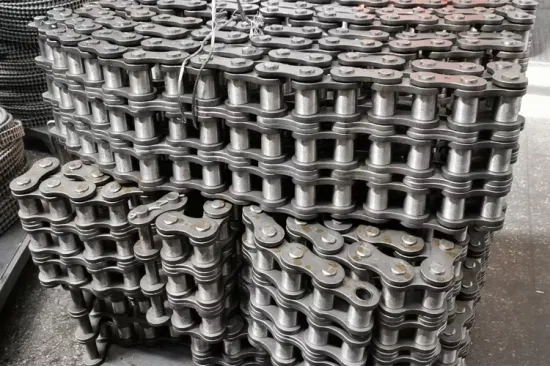 Can a bush chain be repaired or does it need to be replaced entirely?
When a bush chain is damaged or worn out, the extent of the damage will determine whether it can be repaired or needs to be replaced entirely. Here are the considerations:
1. Minor Damage: In some cases, minor damage to a bush chain can be repaired. This includes issues such as a few broken or worn-out bushings or pins. These components can be replaced individually without replacing the entire chain.
2. Extensive Damage: If the bush chain has extensive damage, such as multiple broken links, severe wear on multiple components, or damaged sprockets, it may be more cost-effective and efficient to replace the entire chain. Repairing such extensive damage can be time-consuming and may not guarantee the chain's optimal performance.
3. Chain Length: The length of the chain also plays a role in determining whether it can be repaired. If the damaged section is localized and doesn't affect the overall length significantly, it may be possible to repair or replace only the affected portion.
4. Age and Condition: The age and overall condition of the bush chain should also be considered. If the chain is already worn out, has undergone multiple repairs, or is nearing the end of its service life, it is generally recommended to replace it entirely to ensure reliable operation.
5. Cost Considerations: Finally, the cost of repair versus replacement should be evaluated. In some cases, the cost of repairs, including labor and replacement parts, may exceed the cost of a new chain. In such instances, it is more economical to replace the chain.
Ultimately, the decision to repair or replace a bush chain depends on the extent of the damage, the chain's overall condition, and cost considerations. It is advisable to consult with a qualified professional or the chain manufacturer for an accurate assessment and recommendation.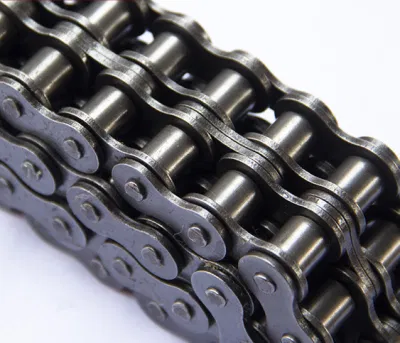 How do you select the right bush chain for your application?
Choosing the right bush chain for your application is essential to ensure optimal performance and longevity. Here are some factors to consider when selecting a bush chain:
1. Load Capacity: Evaluate the maximum load that the chain will need to transmit. Consider factors such as weight, acceleration, and shock loads. Choose a bush chain with a load capacity that exceeds the anticipated load to ensure reliable operation.
2. Speed: Determine the operating speed of the chain. Higher speeds may require chains with specialized designs to minimize wear, reduce friction, and maintain accurate timing.
3. Environmental Conditions: Assess the environmental conditions in which the chain will operate. Consider factors such as temperature, humidity, dust, chemicals, and exposure to corrosive substances. Select a bush chain that is designed to withstand the specific conditions of your application.
4. Size and Configuration: Determine the required chain size based on the available space and the dimensions of the sprockets or pulleys. Consider the pitch, width, and overall dimensions of the chain. Additionally, assess whether a standard or custom configuration is needed to meet the application requirements.
5. Lubrication Requirements: Determine the lubrication method and frequency required for the chain. Some bush chains are self-lubricating, while others may require regular lubrication. Consider the availability of lubrication systems and the maintenance requirements of the chain.
6. Reliability and Durability: Assess the expected operational lifespan and the reliability requirements of your application. Look for bush chains from reputable manufacturers known for producing high-quality, durable products. Consider factors such as wear resistance, fatigue strength, and overall reliability.
7. Cost: Evaluate the cost-effectiveness of the bush chain, considering both the initial investment and long-term maintenance costs. Balance the performance requirements with the available budget.
Consult with a knowledgeable supplier or engineer to ensure you select the right bush chain that meets your specific application requirements. They can provide guidance based on their expertise and help you choose a chain that offers optimal performance and durability.



editor by CX 2023-07-20