Product Description
We have All Spare Parts for KOREA,America,German, and Japan Cars, and also series parts for different cars.
High quality products Original, Made in ZheJiang , Made in China Mainland, 6000
3.Suitable for:
ACTYON REXTON KYRON RODIUS of Ssangyon
4. Delivery Time:
Normally Within 1-15 days after deposit or as customers' requirement, depend on stock
5.Advantages:
1. Factory direct,Original quality and lower price.
2. Most of the items in stocks,we can send the items to you in a short time.
3. Sincere service,if any problem after you recieved the goods,please contact us freely,the best solution will be offered.
Detailed Photo
Guest evaluation
Good feedback from customers is the highest recognition of our products. With the development of made in China, suppliers always describe their products with the best quality, but I think the best products come from the recognition of customers.
A good evaluation, across the distance between different countries, to enhance our mutual trust and feelings. Really good cooperation is mutual understanding and tolerance, just like the friendship between China and other countries.
I also hope to have an opportunity to cooperate with you. Just like the evaluation given to me by my guests, I believe you will also have a good harvest and profit.
Related Products
In order to ensure sufficient demand for guests, we produce all models of chains. What you need to do is to provide us with accurate numbers and pictures. I can make the same chain for you.
Work Shop
Our production workshop covers an area of more than 6000 square meters, more than 200 machines and more than 30 kinds of development and testing equipment. And the professional management and production level in ZheJiang –Real original factory in China
Quality Control
Each of our chains will undergo strict 100% manual test, machine test and anti rust treatment. Only through strict testing can we do a better quality assurance and let guests trust our products more.
Customers Endorsements & Exhibition
Guests from various countries had come to visit my factory and are very satisfied with our production level and chain. They have maintained a good cooperative relationship for many years. We also participate in ZheJiang Frankfurt Auto Parts Exhibition and HangZhou Exhibition and so on.Every time we have new guests and new cooperation.
Packaging
As for packaging, we will customize or conventional packaging according to customers' requirements.                    P. E bag + (antirust paper )+ box+Carton
Our Certificate
 
Our products have passed ISO 9001 and ISO 14001 certification,and Made-in-China strength factory certification
FAQ
Q1: How many years are your company in the autoparts industry?
A: The company has been founded for 20 years till now.
Q2: What are your major products?
A: Our main products are all kinds of Transfer Case Chain&Timing Chain
Q3: Where are your company?
A: We are located in HangZhou City,HangZhou City,ZheJiang Province, China.
Q4: Are you a factory or trading company?
A: We are a real factory with export licenses.
Q5: What is the MOQ?
A: Normaly, our MOQ is 100pcs ,but different product may have the different MOQ.
Q6:How about the quality of your sensors?
A: Our products have got the ISO9001 Certification. OEM Standard is also welcome and could be
fulfilled. Every item will be tested before shipment. You are very welcome to visit our factory at your convenience.
Q7:How about the warrenty of your sensors?
A: All of our sensors are with warrenty of 1 year, for some sensors the warrenty could be extented to 2 years.
Q8: What is the payment terms?
A: 30% deposit before production,70% balance before shipment.
Q9: Can your company customize sensors?
A: YES! You are very welcome to customize sensors, but it is strongly recommended to provide samples.
| | |
| --- | --- |
| After-sales Service: | Great |
| Warranty: | 2years |
| Type: | Auto Belt |
| Material: | Steel |
| Certification: | ISO |
| Automatic: | Automatic |
Customization:

Available

|

Customized Request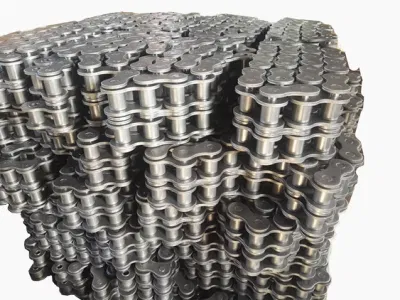 How do you calculate the required length of a bush chain?
The length of a bush chain is determined by the distance between the sprockets or pulleys it needs to span. To calculate the required length, you can follow these steps:
1. Measure the distance between the centers of the sprockets or pulleys where the bush chain will be installed. This is known as the "center distance."
2. Determine the number of chain links required. The number of links depends on the pitch of the bush chain, which is the distance between adjacent pins. The pitch is typically specified by the chain manufacturer.
3. Divide the center distance by the pitch of the chain to calculate the number of chain links needed. Round up to the nearest whole number to ensure proper engagement of the chain with the sprockets.
4. Multiply the number of chain links by the pitch to obtain the actual length of the chain required.
Keep in mind that the calculated chain length is a starting point and may need to be adjusted during installation. It is recommended to provide some additional slack in the chain to accommodate any tensioning or adjustment requirements.
It's important to refer to the manufacturer's specifications and guidelines for the specific bush chain you are using, as different chain types and designs may have variations in calculating the required length.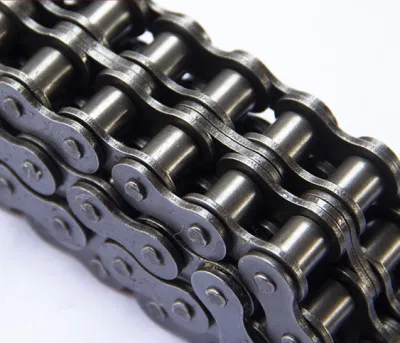 What are the common signs of wear and tear in a bush chain?
As a bush chain is subjected to regular use and stress, it can exhibit signs of wear and tear over time. Here are some common indicators to look out for:
1. Chain Elongation: One of the most apparent signs of wear in a bush chain is elongation. This occurs when the chain's pitch increases due to the stretching of the bushings, resulting in a loose and elongated chain. Elongation can lead to improper engagement with the sprockets and affect the overall performance of the chain.
2. Pin and Bushing Wear: The pins and bushings of a bush chain experience friction and wear during operation. Excessive wear can be observed as grooves or significant flattening of the pin surfaces or bushing bores. This wear can lead to increased clearances, reduced chain strength, and compromised performance.
3. Plate Wear: The inner and outer plates of a bush chain can also exhibit signs of wear. This can include visible signs of erosion, thinning of the plates, or rough surfaces. Plate wear can affect the chain's overall strength and increase the risk of failure.
4. Sprocket Wear: Wear on the teeth of the sprockets is another indication of chain wear. Excessive wear can result in irregular tooth profiles, tooth tip thinning, or significant tooth wear. Sprocket wear can lead to poor chain engagement, increased noise, and reduced efficiency.
5. Misalignment: Misalignment of the chain can cause uneven wear on the pins, bushings, and plates. Signs of misalignment include uneven wear patterns, abnormal noise during operation, and premature failure of the chain components.
6. Increased Noise and Vibration: Excessive wear in a bush chain can result in increased noise and vibration during operation. Unusual rattling, clanking, or grinding sounds may indicate worn-out components or poor chain engagement.
Regular inspection of the chain and being attentive to these signs of wear and tear is crucial. When any of these signs are noticed, it is recommended to take appropriate measures such as replacing the chain or repairing the worn components to ensure the safe and efficient operation of the equipment.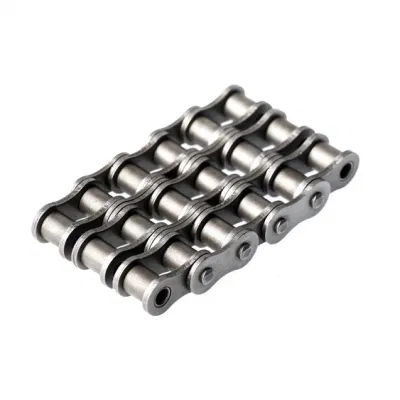 How does a bush chain differ from other types of chains?
A bush chain, also known as a bush roller chain or bushing chain, differs from other types of chains in its construction and design. Here are the key ways in which a bush chain differs:
1. Bushing Design: The main distinguishing feature of a bush chain is the presence of bushings or sleeves between the inner and outer links. These bushings serve as bearings that reduce friction and wear between the chain components, resulting in smoother operation and increased chain life.
2. Simplex, Duplex, and Triplex Configurations: Bush chains are available in different configurations, including simplex, duplex, and triplex. These configurations refer to the number of strands of chain running parallel to each other. This allows for increased load capacity and higher torque transmission in the chain system.
3. Link Plate Design: The link plates in a bush chain are typically thicker and heavier compared to other types of chains. This design provides enhanced strength and durability, allowing the chain to withstand heavy loads and resist elongation under tension.
4. Precision Bushing Fit: The bushings in a bush chain have a precise fit with the pins, which ensures proper alignment and smooth rotation. This reduces friction, minimizes wear, and improves the overall efficiency of the chain system.
5. Lubrication Requirements: Bush chains usually require regular lubrication to maintain optimal performance and reduce friction between the components. Lubrication helps prevent wear and corrosion, ensuring the longevity of the chain.
6. Wide Range of Applications: Bush chains are versatile and find applications in various industrial settings, including machinery, automotive systems, agriculture, material handling, mining, and more. Their robust construction and ability to handle high loads make them suitable for demanding applications.
Overall, the inclusion of bushings, the configuration options, and the design characteristics of bush chains distinguish them from other types of chains. Their unique features make them ideal for applications that require durability, high load capacity, and reduced friction for reliable power transmission.



editor by CX 2023-08-14